We called it 'A Celebration of UK Blues' which would infer a party and what a party we had in Coventry on 18th September!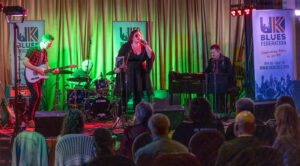 A night of fabulous live music started when Stevie Watts, Martin Johnson and Stuart Dixon ( aka Stevie Watts Organ Trio) and Alice Armstrong took to the stage.   From that moment the party took off at full swing as they treated us to the whole of their album, 'Mission To The Moon' plus one other track.   They were new to, probably, the majority of the audience there so had some winning over to do but that didn't take long.   Indeed by the time they launched into 'No Good' the whole room was transfixed and we saw the first mid set standing ovation in recognition of Alice's soaring  emotional vocals and Stuart Dixon's incredible guitar solo.   From thereon they had become a firm favourite of everyone in the room and it was no surprise to see another standing ovation as they finished their set.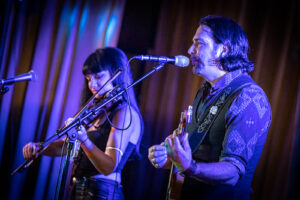 A brief break followed as the stage was reset and the bar was put under pressure by the party goers.   Then it was time to welcome When Rivers Meet.   What a welcome they received as they walked onto the stage to the audience on their feet and shouting their anticipation of what was to come.   That anticipation was fulfilled as Grace and Aaron Bond tore through a set culled from their debut album and EP's.   Each song was met with such a roar of approval from the audience th
at Grace was visibly moved to tears at, at last, playing to a live audience.   That audience had come from some distance with one even having flown in from the USA just for this gig!   The tempo didn't seem to let up for a minute as their set flew by and the energy in the room grew stronger and stronger.   The moment that they hit their final note, said their goodnights and left the stage the entire room rose to their feet and a deafening demand for their return was heard.   Thankfully they returned and treated us to their new single, 'Testify'.   
Many there had come to see When Rivers Meet so to follow them would be some task.   But we knew that Kyla Brox, Danny Blomeley, Mark Warburton and Paul Farr were up to that challenge and more.   There's many reasons that Kyla has won so many awards and is so revered.   But the real basis of all of it is her sage presence and live performances.   It only took one song for the entire room to be completely absorbed in her performance and, of course, that incredible voice.  With the tightest of bands and a groove that took hold of you and wouldn't let go it was evident from the number of audience members clutching Kyla Brox CDs and albums as they left that she had claimed a large addition to her army of followers.   There is no doubt that this was helped by her rendition of Hallelujah – you could have heard a pin drop during the song and looking around as she finished there were many wiping away tears, such was the emotion she brought to the room.   
We would all have been entirely happy to have spent our £18 on a ticket at this stage but there was one more treat in store.  Kyla asked Alice Armstrong and Grace Bond to return to the stage and there ensued a dream vocals jam.   Kyla, Alice and Grace singing together should be on everyone bucket list – a quite stunning finale that everyone there knew was highly unlikely to ever be seen again.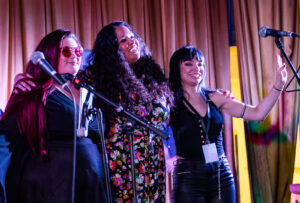 Roll on the next party that The UK Blues Federation throws!